Building a template involves creating a lot of custom files: Special multis with CC allocations, Expression Maps for Cubase, track frameworks for quick and easy loading, and much more.

On this page over time I want to provide you with some resources that I have created in the course of setting up templates for clients.
Please check back often, as there will be frequent additions to this page.
Expression Maps for Cubase

These Expression maps have been tested with Cubase 6-8.5 and will allow you to control the sample library via the Expression Map lane. Wherever possible, actual articulation symbols have been used, so Cubase's score editor will show an actual readable score with articulation markings.

Click on the name of a library to see a description on the Expression Map and to download.


For Berlin Woodwinds EXP A, _not_ the main library (coming soon!)
Requires included Kontakt multis

- All articulations supported
- Articulation Symbols for the Cubase Score Editor
- uses OrchestralTools' Articulation Performer
- identical mapping across patches (= event copy support)


Contains: Expression Map, Kontakt Multis, ReadMe
For Cinematic Strings 2.1
Works with all patches except the Full Lite patch

- All articulations supported
- Articulation Symbols for the Cubase Score Editor
- Supports Monophonic (Legato) and Polyphonic Long articulations
- Automatic switching of Legato behavior


Contains: Expression Map, ReadMe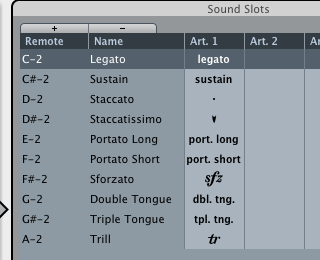 Checklists

These checklists contain step by step instructions on how to open a template created by OrchestralTemplates, naming conventions, troubleshooting tips and many more things. They are mostly intended as a written recapitulation of the things discussed in setup sessions, but should also apply to most user-created templates.


This checklist leads you through starting your machines and loading a pre-made template metaframe in VE Pro. For troubleshooting, references to the Emergency List (available separately) are given.
This list assumes standard VE Pro setup as done by OrchestralTemplates.com.


Contains: On-Screen & printer-friendly PDFs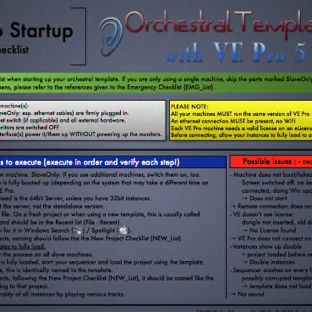 Reviews

Here you will find a growing number of sample library or gear reviews, all focused on how these products work within a template, usage scenarios, etc…
All these products are used daily by OrchstralTemplates.com and no influence or recompensing on part of the creators has been given.


This full-size string library comes from the creators of acclaimed Cinematic Strings 2 and delivers one of the best solutions for really quick yet realistic string parts.